Caluya is a hidden paradise where diving still is an adventure!
The diving area contains around 10 islands within a maximum of a 4h boat trip.
We don't know yet how many spots are worth diving,
this is what we are going to find out with you together…
So you will have the unique opportunity to take part in exploring new dive sites.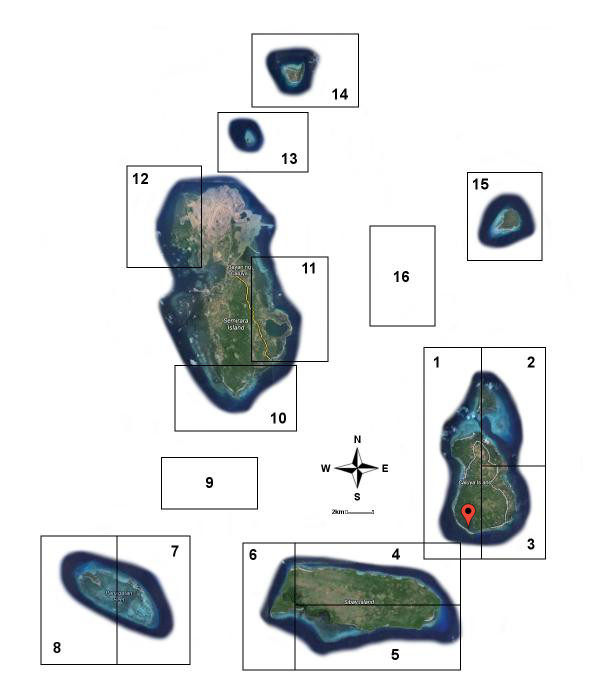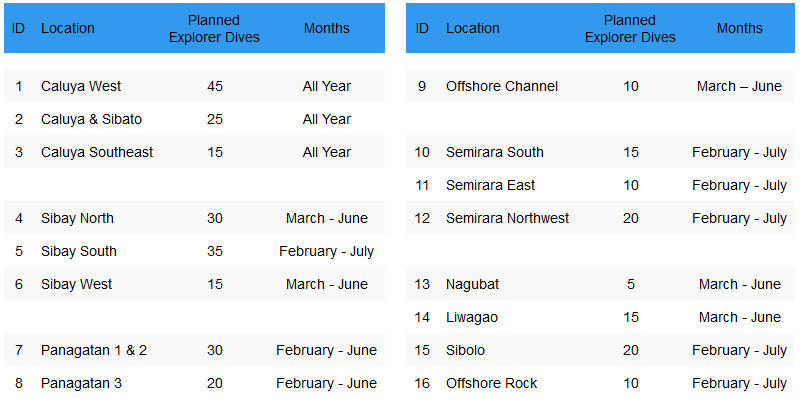 Explorer diving is: TOP or FLOP
We do not know what we'll find until we dive the sites.
During our first explorer dives we tried to answer the most important questions:
Reefs intact?
So far, out of 14 spots, five are absolutely astonishing, with perfectly intact reef-tops and very nice walls.
Three spots are partly effected from explosive fishing and 3 reef-tops are totally destroyed.
If this ratio can be maintained for more than 300 potential spots… you can do the math.
Visibility good?
Average visibility ranges from 15 to 25 meters up to more than 30 meters on special days.
Water quality?
Second biggest economy in the region is seaweed farming. Partly it is used for medicals, therefore the water quality got tested regularly.
Fish variety?
Some spots are like diving in a aquarium. Macro divers will be definitely satisfied as well.
Big fish?
The conditions for big fishes are perfect.
Off-shore reefs, big channels, deep walls, no industrial fishing, good water quality and lots of food around. In april and may, whale-sharks regularly pass by Panagatan.
Topography?
Big walls starting at 14 to 35 meters, going down to more than 60 to 100 meters.
Sand slopes, under water mountains, off-shore reefs, reef-tops and channels for drift-dives are available.
Average depth?
Shallow dives 7-18m Wall Tops Sibay start at 14m Wall Tops Panagatan start at 30+ m level formations with steep reefs starting 7m to sand area 25m to walls 60+meters.
Water temperature?
Water temperature varies from 26 to 31 degrees. It is a warm water diving area, 3 mm wet suits are standard.
Current?
Unpredictable currents are common in the area, creating conditions which may be challenging for divers. If you like drift-dives, you will have lots of fun.
Safety is our first priority.



Keep in mind: We are on a island and transportation is limited. The next decompression chambers are in Manila and Cebu. Therefore:
We stick to the PADI standards.

We only dive in small groups.

Only experienced divers for explorer diving. (100+ logged dives)

All divers must have a buoy.

One of the group is always carrying a surface buoy

No deco dives
The surface buoy is on a reel with a 40m line, marked at 5 and 30m.
During safety stop, a second buoy is launched, to signal to the boat that we will surface in the next 5 minutes.